Take an existing image and change the concept in where you are at and what you are doing. 
On a rainy spring day over three years ago, a girl and her family got into the car to drive north for a college visit. The girl, with her heart already set in stone on another school had no interest in going to see a school she had never heard of in a small, old town. But, they went anyways and she kept thinking are we done yet?
After an hour in the car, the family parked next to a big bell tower surrounded by beautiful brick buildings, trees, and sleepy students waking up for the weekend. They went on the tour with a peppy and passionate tour guide named Christina, a triple majoring student, and walked around with their group, asking questions as they went. She could see herself there… studying on Ball Circle, finding community, and walking to class with her friends… she was excited!
By the end of the tour, the girl had decided that it was the place for her, though she didn't want to admit it yet. She bought a shirt at the bookstore, her first time buying anything from any college and drove back to her home, feeling excited for a place that she may be in a year and a half.
Come November, the girl found out that she was accepted and she wholeheartedly wanted to say YES, but decided to hear from that other now irrelevant school. She waited until March to say "heck no, never mind!" to her dream school and taking a leap towards her future at Mary Washington.
Over two years later, that girl *cough cough* ME! is a rising junior in the History and Education programs, involved in clubs, on an executive board, and a tour guide getting the amazing opportunity to invite new people onto campus. Two years later and I couldn't have made a better choice!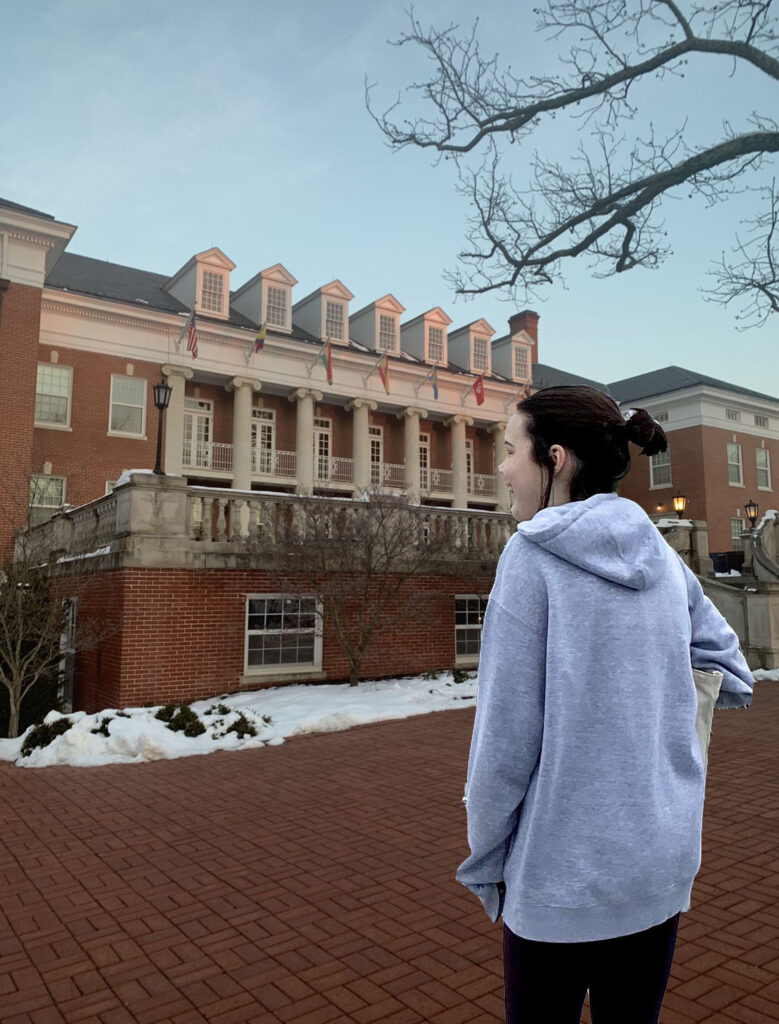 I decided to recreate my first visit to UMW by using a picture from earlier this month and a photo that I took while I was on campus. Using Adobe Photoshop and the magnetic lasso tool, I selected my body from the first photo and inserted it into the latter to re-create my first time on campus.
Little did I know what a joyride my years at UMW would be… and I'm only halfway done!
I'll (hopefully) see you in the fall, beautiful, happy, history-filled, community-based home!