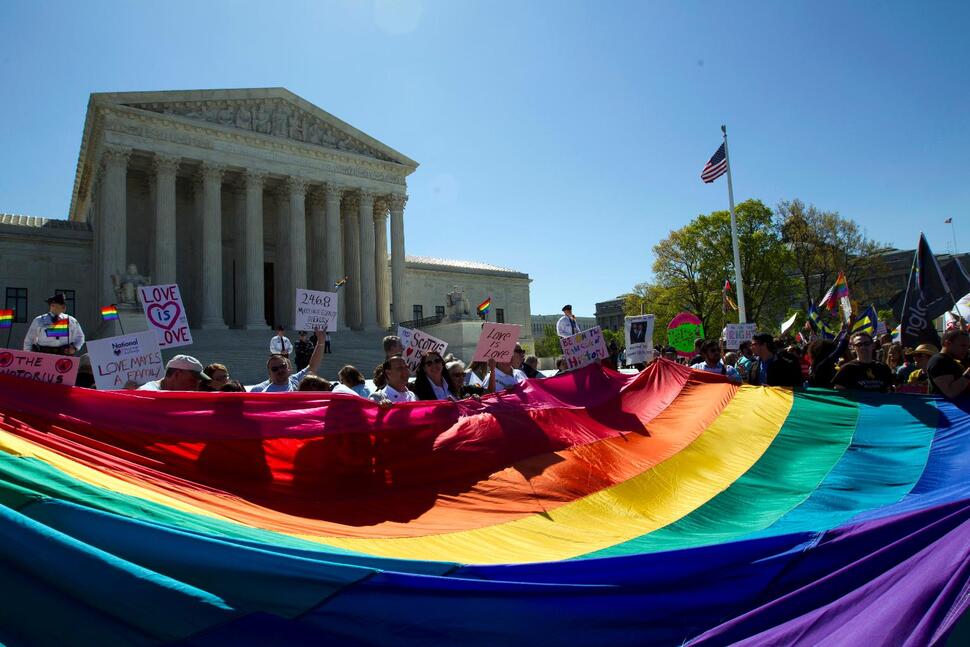 Obergefell v. Hodges was a case that was argued in the Supreme Court of the United States (SCOTUS) from April 28 through June 26, 2015. Before this case was argued, some states defined marriage as being between one man and one woman; multiple petitioners of cases argued that the states were violating their Fourteenth Amendment right by denying them the right to marry or to have marriages performed in a state given full recognition. Prior this case making a national appearance, a few states had begun on the path of legalizing domestic partnerships, civil unions, and even same-sex marriage, but this case brought this issue to national attention.
During the court proceedings, a petitioner stated, "If a legal commitment, responsibility, and protection that is marriage is off limits to gay people as a class, the stain of unworthiness that follows on individuals and families contravenes the basic constitutional commitment to equal dignity. Indeed, the abiding purpose of the Fourteenth Amendment is to preclude relegating classes of persons to second­ tier status." (1) The SCOTUS throughout the hearing emphasized the relationship between the importance of liberty in the Due Process Clause and the equality in the Equal Protection Clause. "Obergefell made liberty the figure and the equality the ground," helping the court shape that the fundamentals of marriage were not being changed, but that they protected more than just opposite-sex marriages. (2)
In the end, the decision was held that the states were in violation of the petitioner's Fourteenth Amendment rights; states must license and recognize the marriage of two same-sex individuals, regardless of where they were married. (3) The decision was 5-4, the majority being made up of justices Kennedy, Ginsburg, Breyer, Sotomayor, and Kagan. They listed four reasons why the fundamental right to marry applies to same-sex couples:
the right to personal choice regarding marriage is inherent in the concept of individual autonomy
the right to marry is fundamental because it supports a two-person union unlike any other in its importance to the committed individuals
safeguards children and families and thus draws meaning from related rights of childrearing, procreation, and education
marriage is a keystone of our social order (see Maynard v. Hill)
The right for same-sex couples to marry was granted on June 26, 2015. Immediately after, a study was done that examined the emotional reactions (happiness and life satisfaction) of LGBTQ+ individuals after the case was heard in the SCOTUS.
Footnotes:
(1) Oral Argument Recording, Obergefell v. Hodges, 135 S. Ct. 2584 (2015).
(2) Kenji Yoshino. 2015. "A New Birth of Freedom?: Obergefell V. Hodges." Harvard Law Review 129 (1): 147–79. https://search-ebscohost-com.umw.idm.oclc.org/login.aspx?direct=true&db=bth&AN=110959610&site=ehost-live.
(3) Obergefell v. Hodges, 135 S. Ct. 2584 (2015).
References:
https://www.law.cornell.edu/wex/obergefell_v._hodges