Many issues in the LGBTQ community have to do with the community's legal status in American society. While some gains have been made, there are still many challenges that the community faces on a daily basis.
On June 26, 2015, the U.S. The Supreme Court made a landmark decision in Obergefell v. Hodges. This ruling guaranteed same-sex couples across the US the right to marriage. By affirming the LGBTQ community's right to marriage, this decision helped to equalize LGBTQ couples in the eyes of the law and had further economic and healthcare benefits for the LGBTQ community.
While same-sex couples now have the right to marriage, there are still many public policy issues that need to be addressed. One of these issues has to do with government identity document policies. Currently, most US government IDs continue to operate within the binary sex model. However, this neglects the many people who identify as non-binary, intersex, gender-nonconforming, etc. In order to collect accurate information, the government needs to update its system for passports, state-issued driver's licenses, and birth certificates to reflect the diversity of the American population. The US government is making progress in this regard. In October 2021, the US State Department issued its first official passport with the gender marker X, which is considered to be a more inclusive category which has been employed in Europe for years. (1) This option will be available to the wider American public within the next couple years.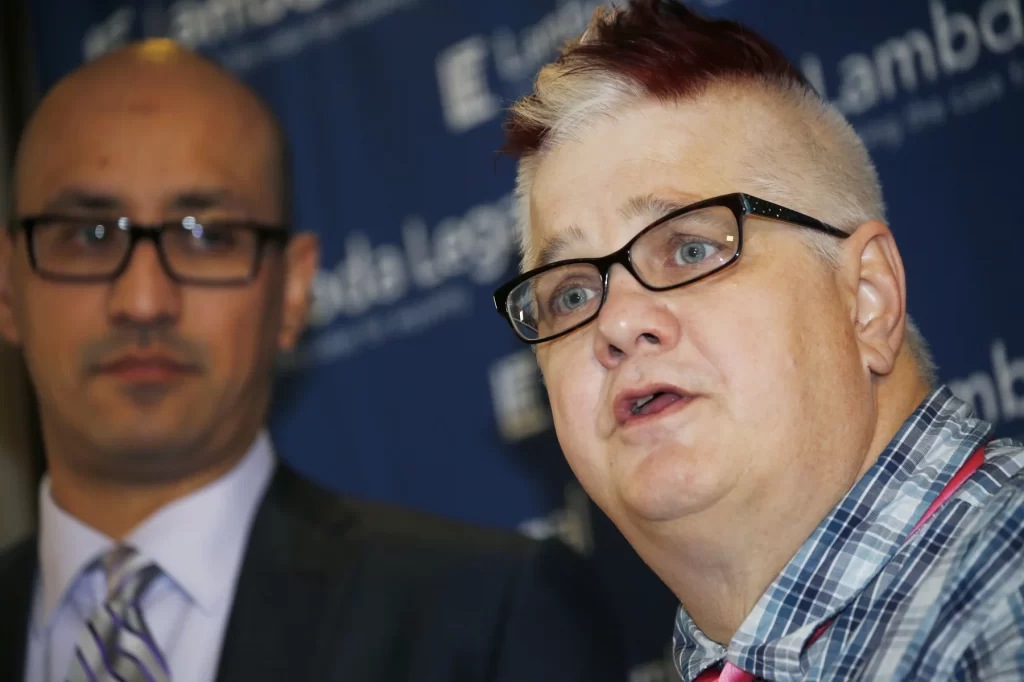 Many activists also argue for inclusivity in the US Census. The US Census is generally used to determine political representation and funding allocation for public services. Since LGBTQ people have unique needs, data should be collected about this community. This would recognize individuals based on sexual orientation and gender idenity and ensure that laws which are meant to protect LGBTQ individuals from discrimination are working. While the 2020 census did count the number of same sex couples in the US, impovments neeed to be made for the next one in order to be more inclusive of the general LGBTQ community. (2)
Lastly, it is important to discuss Federal protections against discrimination for the LGBTQ community. Until recently, there were no federal protections in the workplace or in housing; however, on June 15, 2020 the United States Supreme Court issued its decision in the case of Bostock v. Clayton County, holding that the prohibition against sex discrimination in Title VII f the Civil Rights Act of 1964 extends to employment discrimination on the basis of sexual orientation or transgender status. While there are now federal protections against discrimination in the workplace, there currently is no law protecting the LGBTQ community from discrimination in housing. In the U.S., same-sex couples, or even people perceived to be in a same-sex couple, are less likely to be approved for a loan to purchase a home. (3) Twenty-three states and over four-hundred localities have passed laws to prohibit housing discrimination based on sexual orientation or transgender status, (4) and for the most part these laws seem effective. (5) Yet, Federal legislation may be necessary in order to prevent or at least reduce housing discrimination in all parts of the US.
Footnotes:
(1) Joe Hernandez, "The U.S. issues the first passport with a nonbinary gender 'X' option," NPR, October 27, 2021, Accessed November 29, 2021, https://www.npr.org/2021/10/27/1049690803/state-department-first-passport-with-nonbinary-gender-x-option
(2) "2020  Census: LGBTQ+," United States Census Bureau, February 27, 2020, Accessed November 30, 2021, https://www.census.gov/newsroom/press-kits/2020/2020-census-lgbtq.html.
(3) "Protections Against Employment Discrimination Based on Sexual Orientation or Gender Identity," U.S. Equal Employment Opportunity Commission, June 15, 2021, Accessed November 30, 2021, https://www.eeoc.gov/laws/guidance/protections-against-employment-discrimination-based-sexual-orientation-or-gender.
(4) Shahar Dillbary, J.and Griffin Edwards, "An Empirical Analysis of Sexual Orientation Discrimination," The University of Chicago Law Review 86, no. 1 (2019): 1–76, https://www.jstor.org/stable/26554392, 57.
(5) Ibid, 68.