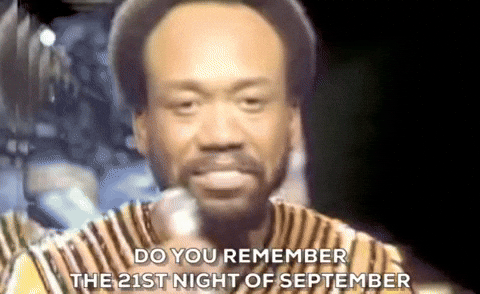 I always have songs stuck in my head at the worst times and giving the song a little hum is always a good way to get it out of your head (or sometimes make it even more stuck!) For this assignment record yourself humming a song that is stuck in your head and upload it! For example I did FloRida's Apple Bottom Jeans song because its been stuck in my head all week!
I know it's pretty cheesy, but September by Earth, Wind and Fire is definitely my favorite song of all time. Especially the beginning where the twangy sounds begin to mix with the brass instruments… it's my favorite part! Obviously my humming sound can't capture all of the song in its glory, but I hope I got pretty close!
This song brings back a lot of memories. When I was younger, my mom, brother, and I would have dance parties in her office and this was one of our favorite songs to dance to. My brother is involved with band, and plays the trumpet, so my all time dream is that he would learn how to play a little bit of this amazing song! Every year, I have a "song of the summer," and a few summers ago, this one happened to be it. Just imagine, windows rolled down, volume up, and open roads ahead. Seems like another life compared to this summer…
The process to make this sound was fairly easy because of the fact that I know the song so well! I looked up the lyrics and was able to hum along with the music in my head! Another way to do this would be to listen to the song over headphones and hum along while recording yourself on another device.
WOW! Wasn't that just like the real thing?! If you'd rather hear the real version, I don't blame you…