Mass Street Demonstrations
The mass street demonstration or better known as the Pride Parade for the LGBTQ+ community has been its hallmark and time tested tactic since the Stonewall uprising that sparked the movement into action. Each June massive amounts of people flood big cities to march for their pride and show people that they exist. However, during the 21st century these parades have become dubious as large cities with flourishing gay communities aren't where the sources of the problem are; Big cities with diverse communities aren't known for their rampant homophobia and transphobia. The problem areas are out and away from the city centers, in the gated communities, suburbs and rural farms. These giant celebrations have been twisted into pressure-release valves becoming a sink of protest activity that satiates the masses instead of making change. (1)
An emergent issue and boon to this form of LGBTQ+ protest is the advent of social media. While it has vastly expanded the reach and scope of mass street demonstration, as well as its ability to recruit members; it also has become detrimental to the movement by making mass demonstrations even easier targets to counter protests and inadvertently supporting "clicktivism" to develop and cause inaction.
---
Distributed Action
However, a newly emerging form of pride has been spreading around the country as pride parades are beginning to be held in smaller rural communities. In 2018 small towns are experiencing pride for the first time, and it's working. (2, 3) Counter protestors aren't showing face and LGBTQ+ people are finally able to show their identities and solidarity for one another in what used to be thought of as a hopeless place to be anything but Cis and Straight.
---
Die-Ins
In response to the violence against LGBTQ+ people across the country, die ins have been used throughout the movement to show people the guttural costs of discrimination and hatred towards LGBTQ+ movement. In the past it was commonly used for the AIDS epidemic but more recently it has been used in protest and remembrance of the Pulse Nightclub Shooting. The effectiveness of which hasn't done much to curb the violence against Transgender and Gender-nonconforming people as in 2020, 44 Transgender people were murdered in violent hatecrimes across the US. (4)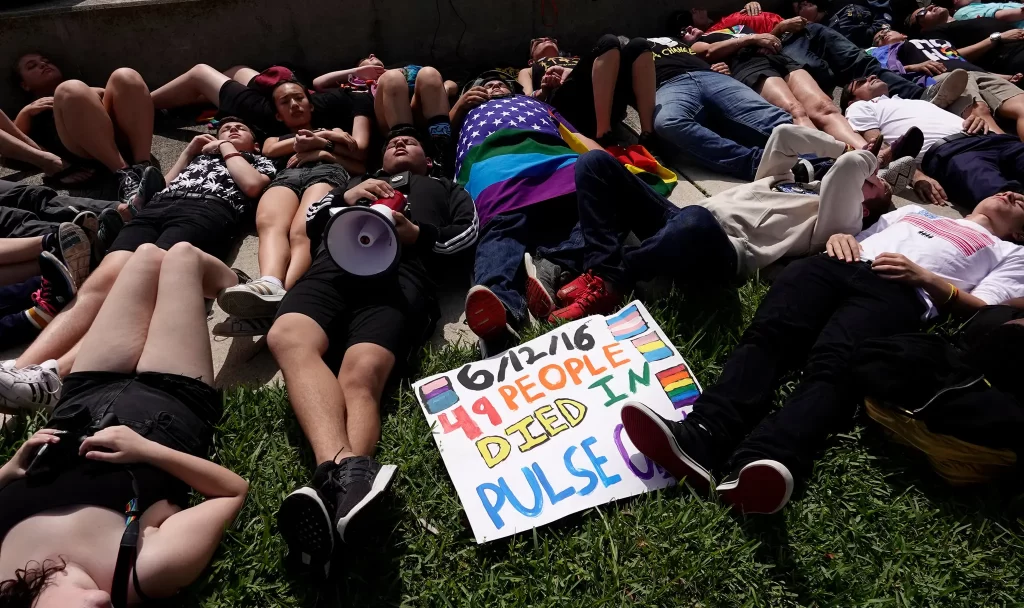 ---
Moving Forward
Change has stagnated for the LGBTQ+ community and things need to be switched up. Mass demonstrations are being co-opted by large corporations, diluting our efforts. I believe the way to move forward is with constant distribution and as unorganized as possible action. The harder it is to predict and the more ubiquitous our action is, I think the greater impact it can have, and the harder it would be to co-opt and dilute the movement.
---
Footnotes:
(1) Suyin Haynes, "What's Changed-and What Hasn't-in 50 Years of Pride Parades." Time. Time, June 26, 2020. https://time.com/5858086/pride-parades-history/.
(2) Beck Banks, "Small-Town Pride Celebrations Emerge — and Show That LGBTQ Life in America Is Flourishing Outside of Cities." The Conversation, The Conversation, November 4, 2021. https://theconversation.com/small-town-pride-celebrations-emerge-and-show-that-lgbtq-life-in-america-is-flourishing-outside-of-cities-165518.
(3) Vanessa Chesnut, "Gay Pride Parade Held in Mississippi City That Initially Denied Permit." NBCNews.com, NBCUniversal News Group, March 26, 2018. https://www.nbcnews.com/feature/nbc-out/gay-pride-parade-held-mississippi-city-initially-denied-permit-n860081.
(4) "Violence against the Transgender Community in 2020." HRC. Accessed December 1, 2021. https://www.hrc.org/resources/violence-against-the-trans-and-gender-non-conforming-community-in-2020.